Pregnancy Chiropractic Care in Ankeny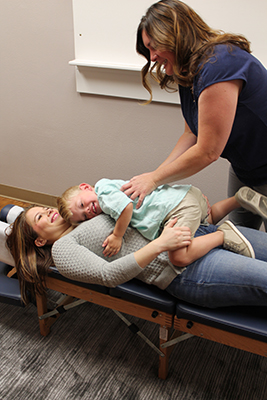 Expecting moms are going through incredible changes. Along with these changes, though, come many pregnancy-related issues that can affect you and your growing baby's health. Dr. Rachel offers a safe route to relieving problems like sciatica, carpal tunnel syndrome, headaches, nausea and pain in the hip, back and more that are all too common during pregnancy. Dr Rachel understands because she has been through it with her own pregnancies. There's even research supporting that chiropractic care assists you in having a smoother, quicker delivery.
The Webster Technique
We recommend that you begin chiropractic care as early as possible. As a chiropractor, Dr. Rachel focuses on the health of Mom's nervous system since it controls every other function in the body. When your pelvis and spine are aligned, your baby will have room to develop properly.
Dr. Rachel has trained extensively in prenatal chiropractic care and is certified in the Webster Technique. This method frees up your pelvic area to help your baby get into the correct position for birth. It's noninvasive, and we have many other light, comfortable techniques available.
Enjoy a Comfortable, Safe Pregnancy
You may see us with a higher frequency toward the end of your pregnancy, since discomfort may increase as your body's center of gravity changes. Pregnancy pillows can be used to accommodate you all the way through your third trimester.
Dr. Rachel experienced the many benefits of prenatal chiropractic care during both of her pregnancies. She was plagued by hip pain and sciatica that felt unbearable. When she started getting regular chiropractic adjustments, the pain was relieved.
CONTACT US »

Walk-ins are welcome to stop by, and extended hours are available that work around busy schedules. Contact us today to schedule your appointment!

Pregnancy Chiropractor Ankeny | (515) 964-7111