Pediatric Chiropractic Care in Ankeny
With the gentlest touch, Dr. Rachel delivers health care for your children to ensure that they enjoy the highest possible levels of health and well-being. We've helped babies and kids of all ages who were looking for a resolution to issues such as
Bed-wetting
Colic
Digestive problems
Sleeping issues
Acid Reflux
ADD/ADHD
Breastfeeding difficulty
Constipation
Earaches
Ensuring Your Child's Comfort
A simple check is all that's needed to provide chiropractic care to children. The pressure used to adjust infants is the same used to test the ripeness of a tomato. We recommend that babies be checked as early as possible since the birthing process is traumatic. Dr. Rachel, who has trained with the International Chiropractic Pediatric Association, can make sure that there are no subluxations present. Subluxations are a lack of motion in the vertebrae, or bones of the spine.
To remove subluxations, Dr. Rachel uses a light touch of her fingertips. The Activator® instrument may also be utilized. If your child is nervous, we'll have them sit on a parent's lap or ask you to lie on the table with your child on your chest. There are toys in each room that they can play with, and often it helps them to see Mom or Dad be adjusted first. Dr. Rachel is well-versed in working with children and will gain their trust before starting.
Understanding Chiropractic's Impact on Children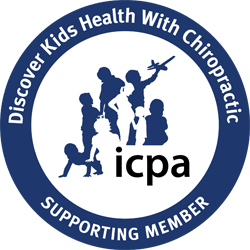 Dr. Rachel's daughter, Willa, and son, Wyatt, have both seen the many benefits of chiropractic care. Though unaware that children could see chiropractors, her daughter had torticollis, colic, digestive problems and plagiocephaly (a misshapen head) as an infant, and brought her to the chiropractor. After Willa's first adjustment, she sat up straight for the first time and napped for more than 20 minutes. After a few more adjustments, she no longer had colic and slept through the night, and her torticollis was starting to resolve. The doctors had said wearing a helmet would be required, but with doing stretching and strengthening exercises at home, they avoided this intervention.
He was stuck in a cycle of chronic ear infection & tonsillitis followed by rounds of antibiotics & relapses. The doctors said his tonsils would have to be removed but Dr. Rachel wanted to try chiropractic first. After being properly adjusted for a month, he hasn't had a bout of tonsillitis or ear infections again. Both of her children are adjusted regularly to continue their active lives without
being held back by health problems.
CONTACT US »
Contact us today to discuss bringing your child in to see Dr. Rachel for family health chiropractic care!

Pediatric Chiropractor Ankeny | (515) 964-7111